Internal Applicant Instructions
1. Items needed before you begin:
If attachments are required for the position: cover letter, resume/CV, writing samples, transcripts, evaluations etc.; we accept an electronic version in one of these formats: (Word either .DOC or .DOCX), (Excel either. XLS or .XLXS), (.PDF), (.TXT) or (.HTML) ONLY.
email address
phone number
Helpful hints:
Create a username and password that is easy for you to remember.
You must apply for a specific position.
Disable any pop-up blocker software on your computer. This is a common cause of problems with uploading documents.
You will need to provide a start date and job title for each of your previous positions. This system will not allow you to continue without this information.
This application can be saved multiple times but will not be forwarded to Human Resources until you hit Submit. You may click Save for Later at any point in the application process. The system keeps the information you have already supplied and allows you to continue where you left off.
You can apply for more than one position.
Do not use the back button.
If you have problems viewing our job postings using the online system, please contact the Office of Human Resources via email at humanresources@salisbury.edu.
2. Getting Started:
From the Employment Opportunities page you can click All Position Listings to see all available positions or select one of the categories below.
Staff (non-academic) and Faculty Positions:
Salisbury University utilizes an Online Employment Application System. As indicated by Job Opening, interested applicants MUST apply for certain designated positions via this online system.
Current active employees please login to Gull Net from the Main Menu click on Careers at SU link on your navigation bar.
All other applicants including former employees or employees in between contracts (e.g., Contractual faculty and staff on summer or winter break), please click Apply Online (link currently takes you to the SU Jobs Opening page should take you to the position you are applying for).
Note: Applicants interested in obtaining a Faculty position and plan to utilize an Online Credential Service Provider (Interfolio, EPCS, etc.), please follow the instructions in the online system and in the job posting/job advertisement.
See Online Employment Application System FAQs for more information and instructions.
Click on the Job Title link to view the job description.
Click on Apply Online to begin the application process.
3. Login in Process:
Internal applicants (i.e., current active employees) access the on-line system by logging into their Salisbury University GullNet account and navigating to the "Careers at SU" link toward the bottom of the left-hand navigation bar. Internal applicants should review their personal information on the "My Profile" page before continuing with the application process. The first time you log into the online system and review the information on the "My Profile" page, even if you do not make any changes, you must click the Save button. You will then see the Go To Application button appear. Click this button to continue with the application.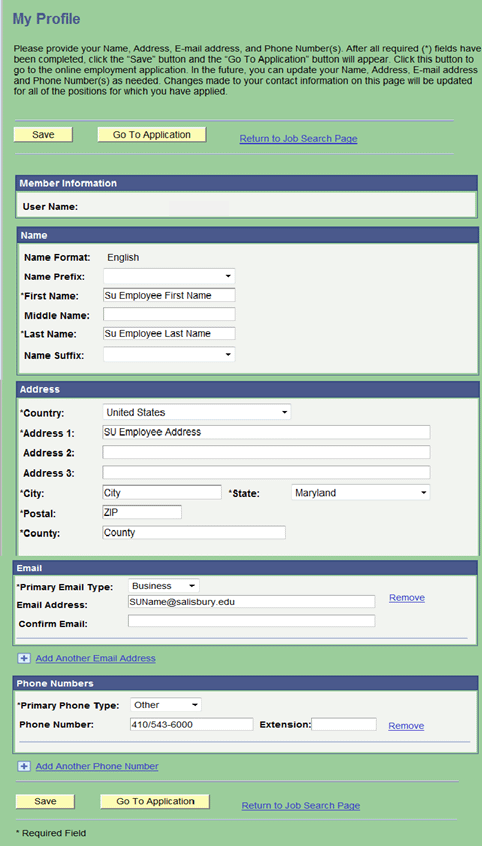 4. Ready to Apply:
Once you have registered/logged in, you may begin the application.
Steps to Provide Data:
Click on each of the "Provide Data" links and complete the pages. Once all required data has been entered on a page and saved, the "No" indicator will change to "Yes" in the "Complete?" column ("N/A" will not change to "Yes").
The "Finalize Application" button will then appear at the bottom of the page.
Click on this "Finalize Application" button.
The last remaining "Submit Application" page will appear.
Read and complete as requested and click the "Submit" button at the bottom of the page to officially submit your application.
A confirmation email will automatically be sent after you submit your application.
Incomplete applications will not be processed.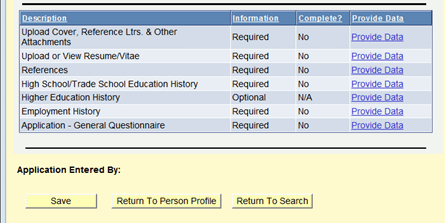 Instructions:
On this page, attach all requested documents per the instructions on the Job Posting, except for your resume. If a resume is required, a separate page is provided to upload your resume.
Our system can only accept attachments in these formats: Microsoft Word, Excel, PowerPoint, Adobe Acrobat (.pdf) or .txt file.
Please ensure that your name and the position of interest are included on each attachment.
For Faculty Positions Only: If you are utilizing an Online Credential Service Provider for your vitae and/or other portfolio documents, go to the References page and follow the instructions at the top of the page.
To upload your documents click "Add Attachment"

Select your document type from drop down

Click "Add Attachment"
This will bring up a search box to find your document
Once you select a file, please click Upload.

Check to make sure the correct document has been uploaded.
If you have other documents to attach please click "Save & Add more" and repeat the attachment process.  If you are done please click "Save & Continue" this will bring you back to the required documents page.  You will repeat these steps until you have a "Yes" in the "Complete" column. 
5. Finalize & Submit:
Once all of the required data has been provided, you will then "finalize and submit your application". A confirmation email will be sent. If you do not receive your email please, go back and confirm your application is complete or check your "spam" folder.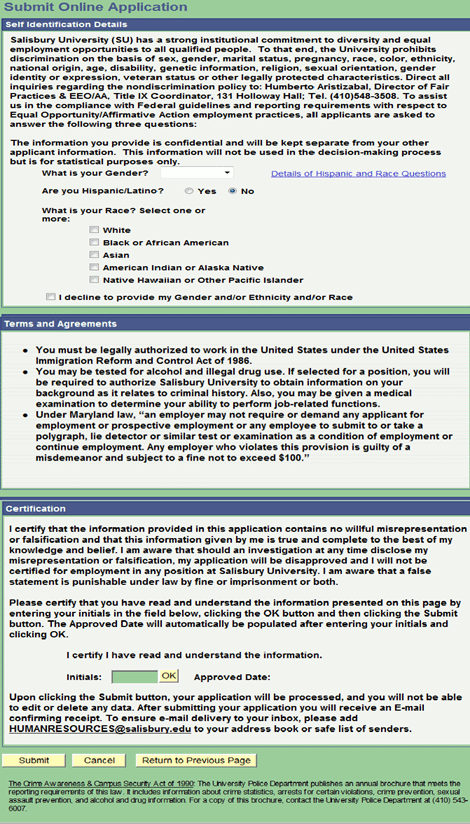 Equal Opportunity Statement

Salisbury University has a strong institutional commitment to diversity and equal employment and educational opportunities for its faculty, staff and students. To that end, the University prohibits discrimination on the basis of sex, gender, marital status, pregnancy, race, color, ethnicity, national origin, age, disability, genetic information, religion, sexual orientation, gender identity or expression, veteran status, or other legally protected characteristics. The University adheres to the EEO/AA policies set forth by federal and Maryland laws. Direct all inquiries regarding the nondiscrimination policy to: Humberto Aristizabal, Associate Vice President of Institutional Equity, Title IX Coordinator, Room 100 Holloway Hall, 1101 Camden Ave. Salisbury, MD 21801; Tel. 410-543-6426.