Eight SU Students, Alumni Named Fulbright Semifinalists for 2018-19
Tuesday, March 6, 2018
SALISBURY, MD---Salisbury University has four current students and four recent graduates who are semifinalists for prestigious U.S. Fulbright Student awards for the 2018-19 academic year.
Martina Maya-CallenSeniors Martina Maya-Callen and Danielle Walker are being considered for English Teaching Assistantships to Argentina and Moldova, respectively. Seniors Nicholas Butler and Jeremie Davis are up for academic research/study grants in the United Kingdom – Butler for atmospheric science and meteorology at the University of Reading and Davis for theatre at the University of Warwick.
Alumni being reviewed for the academic awards include: Thomas Best to study management at Instituto de Empresa in Spain; Callista Brown to study science communication at Technische Universiteit Delft in the Netherlands; Caroline Deschak to study public health at the Instituto Nacional de Salud Publica in Mexico, and Brendan Gallagher to study psychology at the University of Strathclyde in Scotland.
SU Among Nation's Top Producers of Fulbright Students
Tuesday February 27th, 2018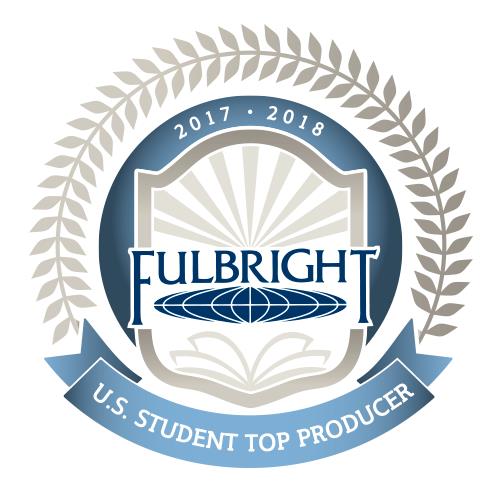 SALISBURY, MD---Salisbury University has been named among the nation's top producers of Fulbright Students for 2017-18 by the U.S. Department of State's Bureau of Educational and Cultural Affairs.
The Fulbright is the country's flagship international educational exchange program. Top-producing campuses were highlighted in The Chronicle of Higher Education.
SU had four students, all May 2017 graduates, who received Fulbright awards for this academic year. They were: Hannah Ennerfelt, Katherine Potvin and Matthew Jones of Salisbury, and Brittany Bursa of Flemington, NJ.
Four Salisbury University Students Chosen as Fulbright Semi-Finalists
Tuesday February 7th, 2017 SALISBURY, MD---Four Salisbury University seniors are semifinalists for prestigious Fulbright awards that would take them on adventures ranging from conducting neuroscience research in Sweden to teaching English in Spain and Asia.
Payge Jennings wins Fulbright ETA to Korea
Wednesay April 27th, 2016
SALISBURY, MD---Salisbury University alumna Payge Jennings thinks knowing how to speak Korean will "come rightback" to her when she returns to South Korea this summer. Her job, however, will be teaching the English language to students.
Emily Lembo Wins Fulbright ETA to Korea
Wednesday, May 21, 2014
SALISBURY, MD---Despite being served live octopus and some "incredibly spicy" foods while teaching in South Korea last summer, Salisbury University senior Emily Lembo can't wait to return.
SU Senior Earns Prestigious Gates Cambridge Scholarship
Friday, March 01, 2013
SALISBURY, MD---A Salisbury University student has earned one of the world's most prestigious international scholarships, the Gates Cambridge award, to explore the development of drugs, especially for antibiotic-resistant diseases. In the process, she is fulfilling a lifelong dream to study near her birthplace.  Senior Dominique Kunciw of Berlin, MD, will pursue a Ph.D. in chemistry at the renowned University of Cambridge.
Overholt is First SU Student to Earn Fulbright Fellowship
Monday, April 02, 2012
More than three centuries ago, Charles Overholt's ancestors immigrated to America from Germany in search of a better life.  Now, the Pocomoke City native is going back to the country they left as the first Salisbury University student to earn the prestigious Fulbright Student Fellowship, awarded by the U.S. Department of State's Fulbright Exchange Program.